Hi, everyone!
Alice and I sat down with RT Book Reviews magazine and chatted a bit about #RomanCrazy. You can read the newest feature in their September VIP Salon. If you're not a VIP member, I'm giving away a chance to win 1 of 5 subscriptions!
To enter, just follow this —> post!
Look for an article (and audio clip) and enter for your chance to win a signed copy of ROMAN CRAZY — and a $50 Barnes and Noble gift card.
We're just about a month away from pub day! We have some amazing giveaways coming up that are exclusive to those that pre-order, including all of the books from the author friends who've read, loved and gushed over #RomanCrazy!
Keep your eyes peeled for that on my Facebook page!
If you've missed one of the author blurbs, they're below!
Also, if you missed the first line . . .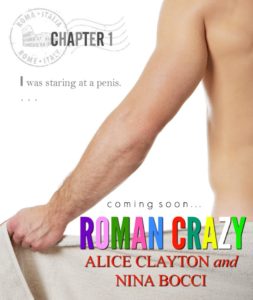 I'm still not tired of Simone Bredariol's smiling face. He's a great choice for Marcello!